Replacement Kitchen Doors & Units from Beautiful Doors
Popular Replacement Doors
Seen It On Our Socials? - Shop Now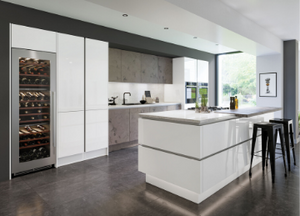 Replacement Kitchen Doors
A cost effective way to Transform any kitchen, by simply replacing the doors and blending with matching Plinths and accessories. 
Over 50 Styles, colours and finishes to choose from!  Compatible with Ikea, B&Q, Wickes kitchens, and more.   Whether its a Classic shaker style or ultra modern chic, you are just Beautiful doors away from your dream kitchen.
Buy Replacement Kitchen Doors
Kitchen Units
In 4 Colour options - The Revolutionary Range of Clic-Together heavy duty kitchen carcass with NO tools required. 
Off the shelf from our Factory with just 48 Hour Dispatch!
ClicBox By Beautiful Doors is an entirely new concept in kitchen cabinets. Using the patented UNICLIC for furniture technology, means the different components just clic together to form the strong foundations of your kitchen.
Buy Kitchen Units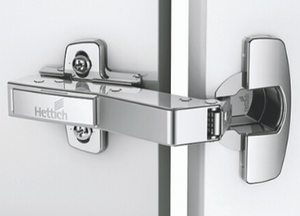 Handles & Hinges
A Beautiful Door goes hand in hand with a quality Handle and Hinge. 
Browse our range of Hettich hinges in silent soft close, bi folds or 'push to open' as well as our Handles, featured in an array of colours and finishes to perfectly suit every door.
Buy Handles & Hinges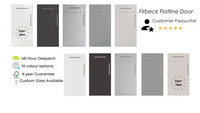 Beautiful Range of Flat Doors, available in Super Gloss or Super Matt Finishes
'The Ultimate customer favourite - Sleek and On Trend, taking your kitchen from Zero to Hero!' 
- Leanne,
Beautiful Doors
-Available in Super Matt or Super Gloss
Shop The Range
Testimonials
I recently had to purchase some replacement doors, end panels and plinths for my12 year old kitchen as my darling little puppy decided to chew them to smithereens including stripping the high gloss off them. The manufacturer didn't do the doors anymore in the colour so I contacted beautiful doors out of sheer desperation! I spoke to Odette who was really amazing and helpful sending me colour swabs to match. To my amazement the colour was a 99.9% match. I ordered everything I needed and days later they arrived. I had the doors predrilled ready. Odette informed me that they did not provide a fitting service in my area so with some trepidation I started to fit them myself. There was a little adjustment I had to make BUT that was down to my flooring. I have now fitted them myself! I'm not a fitter just a 50year old retail manager on furlough! No hassle and straight forward. Would I recommend your company? Deffo! Would I recommend Odette, deffo. 5 stars from start to finish

Wendy Godbold
Absolutely brilliant, We ordered clicBox Units and Handle-less gloss doors- fast delivery, effortless assembly, amazing quality! Over half the price of quotes from major shops -Very impressed, and have recommended to everyone I Know!

Mr K, Surrey
Over joyed with the result!  We changed our doors and it has transformed our kitchen completely,  fast delivery and really helpful customer service.

Mrs Mcormack, Bucks
Love our new shaker doors, Great quality, and comes with a 6 year guarantee! Really happy with our new kitchen.  Would 100% recommend.  Very simple to order and we received our order within a few days.

Phillip Baxter, Milton Keynes
Thank you Beautiful Doors for another super quality product. We've ordered ONLINE from Beautiful Doors a few times now, for our kitchen, ulility plus large storage cupboards, and we've been so impressed with the quality, price, reliability, ease of online ordering and delivery.We live in rural Devon and delivery was no problem.We are renovating another house and we will be using Beautiful Doors again for all our kitchen and storage cupboards.Highly recommended.

Lisa Jenkins

The Doors are absolutely beautiful, will sort out some photos shortly. Thank you everybody at beautiful doors, Fantastic work! kind regards









Craig, Rhyll